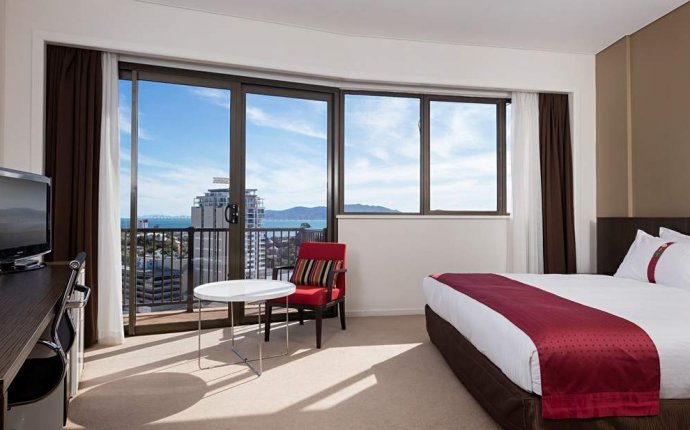 Hotels Townsville Australia
A sunny, coastal city in North Queensland, Townsville has plenty of vacation potential: among its many charms are impressive natural landmarks and beautiful botanic gardens, as well as a world-class aquarium, a wildlife sanctuary, and a handsome downtown with a thriving dining precinct. And after a day spent diving into the Yongala shipwreck or exploring the exotic islands just offshore, travellers have their pick of places to spend the night, from stylish hotels to caravan parks and boutique backpackers' hostels.
This town was made for walking…
Townsville is an exceptionally pedestrian-friendly city. Castle Hill, the red granite monolith at the city's heart, is circled by walking trails, and the panoramic views at its peak are well worth the climb, particularly at sunrise or sunset. Travellers can also enjoy a breezy stroll along The Strand, a long, palm tree-lined promenade overlooking the Coral Sea, or wander down the Riverwalk to join the locals at play; the Ross River is a popular destination for water sports and cultural events. A series of four distinct gardens linked by a cycling and walking path, the Townsville Botanic Gardens are yet another option for a car-free outing. The stately Queens Gardens are the oldest of the four, while the Anderson Gardens are the largest, with 25 hectares devoted to tropical plants. Travellers can also get their fresh air and exercise at the Jezzine Barracks, a 15-hectare heritage site commemorating the area's significant military and aboriginal history.
Islands in the sun…
A peaceful oasis surrounded by the World Heritage-listed Great Barrier Reef, Orpheus Island is about half an hour from Townsville via a scenic seaplane or helicopter. It is known for its exceptionally luxurious resorts, while Hinchinbrook Island, also accessible from Townsville by air, is known for the challenging Thorsborne Trail, a 20-mile trek through stunning eucalypt forest, banksia forest, and mangroves. Just 25 minutes from Townsville mainland by ferry, Magnetic Island also sits within the Great Barrier Reef, yet does not share the tropical rainforest landscape of its kin. Mountainous, wooded, and studded with no fewer than 23 beaches, this bit of paradise also offers a mild, dry climate, ideal for water sports and hiking. Horseback riding and bird-watching are popular here as well, while night owls come for the Full Moon Down Under, an all-night-long dance party on Nelly Beach. Accommodations on the island are nearly as varied as they are in Townsville, and include several resort hotels with direct access to the beach.
Source: www.trivago.com.au