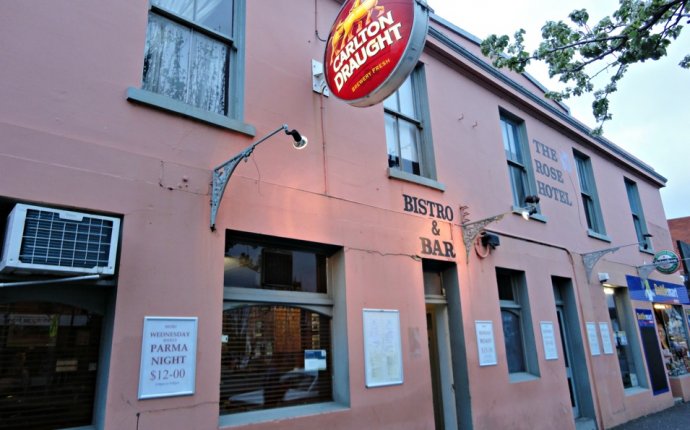 Rose of Australia Hotel
Erskineville's mainstay Rose of Australia Hotel is expanding upwards, revamping their top floor into Howard's Cantina and Cocktail Bar. The two-phase launch began on May 4 with a new cocktail menu, but punters are now able to dine at Howard's from Thursday, May 11 with the launch of the cantina's food menu.
The new space is named after Howard Leach, who first purchased the building 21 years ago and whose family still owns the hotel. The fitout pays a similarly retro homage with brightly patterned furnishings, contemporary artwork, a purple neon sign emblazoned with the command "name your poison", and picnic-style bench tables. The cantina's cocktail menu will focus on classics with a twist — think a traditional whisky sour topped with a Barossa Shiraz float and a Negroni garnished with a smoked hickory-chip which has been pre-soaked in Grand Marnier.
Come May 11, chef Chris Bell's share menu will be up and running, and will include white wine poached lobster tail, whey-braised lamb shoulder and a head of iceberg topped with caviar. For sides, Bell is serving up cauliflower with crisp anchovies and pickled turnip, as well as smoked pumpkin wedges with whipped garlic and mint seeds. They're also combining coca-cola sorbet and buttered popcorn in a wacky dessert which is named after the politicians, journalists and generally eccentric characters that have made the Rose their local haunt over the years.
Howard's Cantina and Cocktail Bar is now open inside the Rose of Australia Hotel at 1 Swanson Street, Erskineville, with the cantina food menu available from May 11.
Source: concreteplayground.com