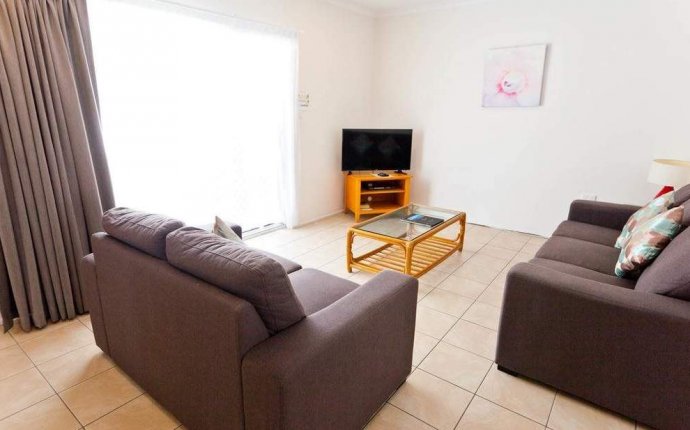 Accommodation Trinity Beach Cairns Australia
Summer has gone, autumn is here, warm to hot days, cool nights. On a light jacket required. This is the time to visit. Only two minutes stroll to Trinity Beach: restaurants, water sports — everything you could desire, plus the best advice for things to see and do. Guided walks up local landmarks by Gabi and/or Peter. Come and play on the reef and in the rainforest! We will help you book your perfect cruises and tours.
*** With autumn here this is the time for visiting the Reef and Rainforest, relaxing on the beach, swimming in still-warm waters 23 - 27C. Temps about 27 - 29 C, in the 80s for you Fahrenheit buffs. Cool evenings, warm oceans, swimming pool to cool off and everything green and beautiful. Don't miss your chance to play Pickleball with us. Come and see us... don't delay, we get booked up pretty quickly. Airport pick up for only $35... taxi is $60. **** Only a two minute stroll from the beautiful 1 klm golden sands of Trinity beach fringed by cafe's, restaurants and rain forest trees, this location provides everything you could desire for a perfect holiday. The weather up here ranges from warm to hot during the year so there is NO bad time to visit. **** The Apartment is fully air-conditioned (plus fans in every room) and comprises 2 bedrooms and 2 bathrooms and yours is our guest room with a comfortable queen-sized bed, private bathroom (with shower, toilet and vanity, plus hairdryer and shampoos.) There is a large mirrored cupboard for storage and a private balcony and clothes drying area, through your own sliding doors with views to the mountains and towards the ocean. Your balcony also has 2 chairs and a table for an intimate glass of something wet and cold, or hot or course. **** The lounge area comprises two sofas surrounding Indonesian tables making this apartment elegant but practical, comfortable and homely. The dining room seats 4 and we have another 4 seat dining table outside on the large west facing terrace so there are plenty of places to eat in privacy if you wish. Undercover garage parking, bus stop close by, (bus to the centre of Cairns takes about 45 mins ) shops and world famous tourist attractions, The Great Barrier Reef and Heritage listed Tropical Rain forest are just down the road. You are welcome to use our kitchen which has an electric glass plate cook top and oven, washing machine, dryer, microwave, large fridge and freezer, plus kettle, toaster, etc. We do NOT make you breakfast, in spite of those who have said we do! Sometimes under special circumstances we might made a big brekkie, but usually we invite you to make your own in our kitchen. We have a fridge especially for our guests where you can store your cold food. **** Attractions in Far North Queensland include the Great Barrier Reef, Mossman Gorge, Port Douglas, the Daintree Peninsula, and many other wonderful spots (see our guidebook) plus Skyrail and Scenic railway up to the quaint village of Kuranda on the Atherton Tablelands. As qualified and experienced tour guides, Peter and/or Gabi can take you on private tours (for a small fee) and treat you to history and legends, and the best places that only the locals know about. For the Reef, the bus stop is only 50 metres away if you do not have your own car. Car Hire can be organised once you have arrived in Trinity Beach or on arrival at the airport, but PLEASE DO NOT BOOK ANY TOURS UNTIL YOU HAVE SPOKEN TO PETER AND GABI. This is because the weather can change rapidly and we like to pick the best day for your Reef cruise. +++ A southern hemisphere winter should not deter you. The weather is magnificent and the reef sparkling. Temperatures have sunk to a mere 27 C and the nights are mild and clear. This is the time when the Southern Hemisphere comes to play in North Queensland and this is yet another time when we love to show you our beautiful Great Barrier Reef, ancient rain forests, waterfalls and Indigenous culture. The ocean is still warm with temps around 25C, making snorkeling and diving the first thing on the agenda. Contact us with your questions and we will answer within a very short period - unless it's the middle of the night! **** Check out our Guidebook and ask us any questions about what you would like to do on your trip to our beautiful part of the world. We can help you organise it. **** If you like birds, flora and fauna, we have masses of information. Sulphur crested cockatoos will greet you in the morning (not too early thankfully) as well as corellas, lorikeets, kookaburras, friar birds and curlews and the gardens are full of ginger plants, palms and cycads and much, much more. **** Let us know what your likes and dislikes are from gourmet restaurants, bird watching, swimming on the Great Barrier Reef or local culture and we can point you in the right direction. About breakfast: WE do NOT serve you breakfast unless there are special circumstances like birthdays, or I'm cooking bacon and eggs and you fancy some too, but we do offer you tea and coffee and things in the fridge, and you are very welcome to put your own stuff in the guest fridge or on a specially tray I provide for you so you can make your own meals in our kitchen whenever you want. It must be remembered also that this is a home not a hotel, so it's homely and comfy, not sterile. **** You are only 20 minutes from the centre of Cairns by car, where there are cinemas, a casino, marina and plenty of shopping, plus supermarkets at Smithfield and Trinity Beach that are only 3 to 10 minutes away by car. A bus ride is a little longer - it stops to pick people up! 35 - 45 minutes for the bus into town, but we are often going in ourselves so we can usually work that out. **** Bikes are available for you and so is our canoe but only if you are competent experienced canoeists. **** Free wireless internet available.password given on arrival. *****We can pick you up at the airport for $35 - taxi fare is usually $60. ***** Good deals for car hire - we can arrange for you if you wish! ***** AND MUCH MUCH MORE! NB. We are not set up for children and we only accommodate 2 people.
The beach at Trinity is exquisite, about a kilometre of golden sand. Supermarkets are anything from a five minute walk to a ten minute drive. Earl Hill is our local 300 metres hike and Peter has laid out the pink ribbon track for residents of Trinity Beach to use. The views from the top are magnificent. Check out our photos and see for yourself. Guided tours to the rainforest also possible if time permits.
We are so pleased to stay at Gabi's and Peter's place to get the most out of Nothern Queensland. Fortunately we didn't booked a Great Barrier Reef Snorkeling Tour before we arrived in Cairns, because Gabi gave us the best advises we could imagine to make the trip unforgetable. Gabi and Peter know everything about the area and always helped us with very good recommendations. We appreciate it so much to meet them and to stay in the beautiful and clean rose room with an own bathroom and balcony. Furthermore they invited us to a diner with their friends and we had a good time. This place is highly recommended.
Source: www.airbnb.com.au