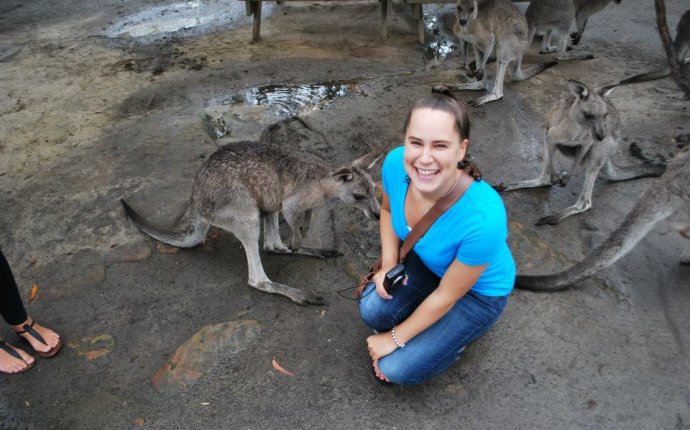 What to See in Sydney Australia?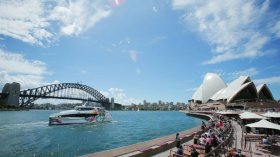 Courtesy of Andrew Smith, Destination NSW's Chief Funster
Enjoy beautiful views of the Sydney Opera House and Sydney Harbour Bridge as your explore this exciting city.
A little bit of planning goes a long way as Sydney is full of natural beauty, hidden hotspots, and exciting events. The best part: many of them are free. Here are a few suggestions to kick off the fun on a dime (or an Aussie 10 cent piece!):
Undoubtedly, and its surrounds are usually among the first stops for visitors to the city. Two of the city's great icons, the Sydney Opera House and Sydney Harbour Bridge are in the same cityscape, which makes for a brilliant scene at the cheap price of free. Buskers including didgeridoo players line the wharves, entertaining the crowds in exchange for a few dollars, adding to the atmosphere of this iconic Sydney scene.
Just behind the Opera House is the —a great place to visit, sharing its spectacular visuals over the harbor without charging an admission fee. Plan to spend a minimum of one hour there, as anything less won't be enough to take it all in! My favorite time to be there is as the sun falls and the flying foxes, which sleep in trees across Sydney's parks during the day, take to the sky, bringing a new light to the city.
Want to explore Sydney Harbour? Look no further than the ferry. Though some people take the ferry to and from work each day, this way to travel is much more than just a means to commute. It's an attraction in itself. Arguably the most scenic route is the one between Circular Quay and . It's one of the best ways to see Sydney Harbour—from the water—and seriously beats out other options in terms of price. Once in Manly, you can visit the beaches, cool cafes, and even the breeding grounds of Little Penguins that hang out under the wharf and come out in the evening.
There's no doubt that along the way, hunger will strike. If you're anything like me, when it comes to eating experiences, authenticity is a big factor. One of the biggest secrets around is Eating World, hidden up the sleeve of the city's . It's a food court that immediately reminds you of the Chinese or Singaporean "hawker" that locals enjoy so commonly. Walk to the stall that has the type of food you want, choose from the picture menus built into the wall, and pay an incredibly fair price. When I eat, I want good food, period. Saving a few bucks at the expense of décor but getting food as authentic as possible is the perfect tradeoff.
Another take on getting full by reasonable means will take you straight into the history-laden The Rocks precinct of Sydney. Each Friday, from 10 a.m. to 4 p.m., the sets up stalls full of fresh, locally-produced foods like lamb kebabs, barbequed salmon, Turkish gozleme, bottled oils, an array of sweets, and the all-time Australian favorite: gourmet meat pies. The food itself is very satisfying, but so is paying around AU$5 for a solid lunch.
When you're ready to work off all that amazing food, having an adventure is some of the best exercise. As a visitor to Sydney, you'll likely find yourself at the iconic . You can capitalize on the —it's a decent hoof with some of nature's best aesthetics on offer. For those seeking something more casual, Bondi to Bronte is slightly less aggressive, but just as serene. And just as a reminder, this comes at the cost of $0. Perfect! Back in Bondi, why not try your hand at surfing or paddle boarding—renting a board is cheap—and afterwards, check out the North Bondi RSL for a good-value bite of food and a cold drink with a view over the beach that's hard to beat.
You'll be told that Australia has good coffee over and over and nobody is wrong when they say that. There are many small roasters in Sydney, and some are exceptional. Buy bags of "filter roast" beans from the likes of Mecca Espresso, Single Origin Roasters, Rueben Hills, or Sample, and brew at home! A single-cup cone filter and some boiling water is all you need to make the same (or arguably better) cup of coffee.
Sydney is one happening city. There seems to be something going on every second of every day. What's even better than the variety and frequency of the city's festivals, exhibitions and spectacles, is that many are free to the public, like An 18-day festival of light, music and sound, Vivid is held May 23 to Jun. 9 this year, and a chunk of the program is free. Last year, more than 800, 000 people attended the event, which features giant light installations and light projections, covering iconic buildings such as the Sydney Opera House and Sydney Harbour Bridge, as well as music performances, talks and creative workshops.
A great free event is, Australia's largest and most exciting contemporary visual arts festival. Held every two years, the Biennale is a three-month exhibition with artist talks, forums, guided tours and family days—all free. This year, the event runs Mar. 21 to Jun. 9, with a program highlighting tours and performances at Sydney Harbour's largest island, Cockatoo Island, just a short ferry ride from the CBD.
So where will you be staying during all of this? Accommodation is routinely the biggest expense for most travelers, but it doesn't have to be. Consider the as it will probably make you rethink what's considered to be a hostel. Nestled high up in The Rocks precinct, it has a view like no other: Sydney Harbour Bridge to the left, Opera House to the right, and the Harbour in the middle. The rooftop terrace there is the perfect place to grab a drink and meet some new friends. YHA has multiple locations across the city, all of them worth considering.
Beyond these tips, definitely hop on . It's a massive wealth of information, with hyperlinks out to practically every event or festival going on in the city, a great tool for planning a trip before you get to Sydney, or searching for inspiration sporadically while you're in the destination. And last but not least, when you're looking for tips, ask a local! Sydneysiders (and Aussies in general) are typically more than happy to provide information about their city and are excited to share their personal favorites hidden about. I've gotten some of my own best tips from locals and strongly recommend it. To this tune, you can also ask me! I've been living in Sydney and travelling around the State of New South Wales (NSW) since mid-December 2013 and have picked up plenty of tips and tricks along the way. You can check out my adventures on social media and of course, feel free to shoot any questions or suggestions my way, tagging in #funster.
Where is the love lyrics meaning?
where can i by hamburger helper tune casserole
Which of these is a connotative meaning for river?
What does on premise mean?
How to spell cancelled?
how do i import data in tax forms helper
I stopped explaining myself when i realized meaning?
What does stipend mean?
What are small cap?
How to choose a watermelon-farmer's tricks?
How to unweld on cricut?
What is amyloidosis?
How to add a folder in gmail?
What tricks did jackson use to gain three fourths of alabama, florida and a third of tennessee?
What is phlegm?
What does sublet mean?
Tips on how to shoot a wedding video?
What does .org mean?
How to change twitter username?
How to save money at home tips?
What is the official soft drink of the state of nebraska?
What are you doing for others meaning?
How to stop binge eating tips?
What tricks do actors use to cry?
How to make a screenshot?
He who dwells in the shelter of the most high meaning?
What nationality are gypsies?
What does back labor feel like?
Meaning of when the saints go marching in?
How to do all of agro's tricks?
What does co mean in medical terms?
What is it when the tips of grass turn burgandy color?
How can you determine the meaning of the word "imminent" in the first section of this document?
What are you been up to meaning?
How to find a grave in a cemetery?
What are some tricks that real estate agents pull?
What does unison mean?
What is the meaning of yoga in english?
How to clean fake jewelry?
What is cataract?
What temp does it snow?
Peace lily why brown tips?
What does cc and bcc mean in email?
What does psychotic mean?
How to change name on passport?
What does usps awaiting item mean?
What are the types of clouds?
how to make helper method java
how much does an electrician helper make in texas
What does sml mean?
What is the spiritual meaning of lapis lazuli?
What does leasing a car mean?
How long do tips take on instacart?
what does a plumbers helper make
What do mortify mean?
What does mia mean in texting?
How to get rid of acne fast?
Why is tricks hairline soo bad?
How to get someone to like you?
How do you find the mean in math?
How to lower ldl cholesterol?
What does alana mean?
How to connect airpods to computer?
What does let's go branded mean?
What channel does the super bowl come on?
What does uncured bacon mean?
How to get free wifi?
How much does grubhub make with tips?
What are triceps?
How to prank call?
What does unlocked cell phone mean?
What are the elements of narrative?
What time does pet supplies plus open?
How to track macros?
How to cook long grain rice?
Movies where a woman tricks a man?
How to dispose of bacon grease?
What is the meaning of html?
How to make root beer?
How long does it take to get a passport?
Don't tell me how to live?
What tricks are there for windows 10 developer mode?
How to train your dragon dragon names?
what does helper mean in the bible
How to make a bracelet?
How to dye my hair white with black tips?
How do i speak to someone at uber eats?
What does loathing mean?
What items does goodwill accept?
What is the meaning of the greek word metanoia?
What is the meaning of the baby in the king cake?
How to clean iron skillet?
What does cfnm mean?
What is the meaning of rn in nursing?
What are some good chiropractic tips when promoting?
What does net of taxes mean?
How to delete a discord account?
What is the meaning behind sound of silence?
What does gabapentin treat?
What is the meaning of sofi?
How to check fsa scores 2021?
What does vandalism mean?
Source: www.budgettravel.com