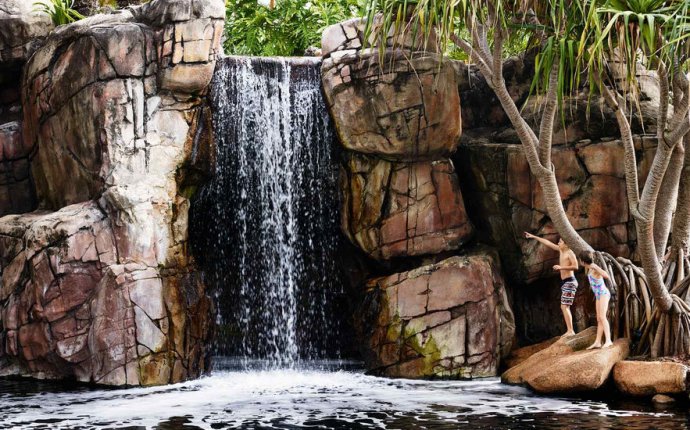 Gold Coast Hotels Australia
One of Australia's largest and most-visited beachside holiday cities, Surfers Paradise is the capital city of Queensland's spectacular Gold Coast region. Set along endless kilometres of surfing beaches, Surfers attracts visitors from across Australia, New Zealand, and the rest of the world. Due to its climate, it's a year-round destination that is packed with hotels, high-rise condo blocks, buzzing entertainment areas, shopping districts, eateries, pubs, bars, and late-night clubs.
While some consider Surfers to be over-commercialised, many more consider its cosmopolitan atmosphere and swinging nightlife its main attractions. Love it or hate it, this city can't be ignored. Families arrive for the theme parks, the wildlife parks, the water parks, and the surrounding attractions, as well as the beaches, and students arrive during the vacation season to do what students do best when their parents aren't around. For visitors looking for peace and quiet, a short drive in either direction gets you to more laid-back Gold Coast locations.
Sights nearby
The Gold Coast and its capital are almost entirely given over to holiday hedonism in the 21st century manner, so history and culture buffs may prefer to continue along the coast. For those into beachside fun, there are endless ways to fill your time with well-deserved self-indulgence at theme parks, on the beach, and in the endless supply of pubs, bars, restaurants, and nightclubs.
- Whale watching
If you're visiting between May and September, you'll be here at the same time as these majestic leviathans of the deep cruise along Australia's east coastline to the warm winter waters in order to mate. Surfers Paradise whale watching boat trips can almost guarantee sightings, and the magnificent sea creatures can also be seen from several land-based viewing sites.
- Currumbin Wildlife Sanctuary
A visit to this wildlife sanctuary combines sights of all of the county's famous fauna, including koalas, kangaroos, wallabies, crocodiles, snakes, and other reptiles, along with a brief history of the country's indigenous aboriginal culture, which includes a dance performance.
- Paradise Beach
The heart of the city is its famous Paradise Beach, a three-kilometre long, picture-perfect stretch of golden sand and sparkling blue waters, which are usually crowded with sunbathers, surfers, and international tourists. Beach volleyball is huge here and lifeguards patrol every inch of the beach. Beachfront markets liven up the evenings and live entertainers give it their all.
- Wet'n'Wild Water World
Wet'n'Wild is the Gold Coast's largest water park as well as a sister attraction to Sea World. All the latest watery thrills are here, including massive double slides, steep drops, and varied wave pools. The Calypso Beach is great for relaxation, and fast food joints cater for lunch on the run.
- Gold Coast City Art Gallery
If a holiday isn't a holiday without a stab at one cultural destination, this art gallery is for you. The exhibits chronicle the development of the Gold Coast through the eyes of both historic and contemporary artists, as well as present cultural collaborations with Asian nations, including China and Japan. Examples of the intricate, iconic aboriginal art are also displayed.
Eating and drinking and shopping nearby
It's impossible to go hungry or thirsty in Surfers Paradise, whatever your budget. Every popular international cuisine as well as Modern Australian, seafood, and fine dining outlets are represented here, at prices to suit all pockets. From hole-in-the-wall take aways up to in-house, upscale hotel restaurants requiring at least a shirt and tie, the choice is huge. Add on cafés, coffee shops, and beachside eateries, and you have a foodie paradise.
Nightclubs, music venues, and Australian pubs complete the picture, and shopaholics can spend hours maxing their card in malls, craft shops, and the regular outdoor markets close by the Vibe Hotel or the Outrigger Surfers Paradise.
Public transport
Most air arrivals at Gold Coast Airport head for its shuttle buses to Surfers Paradise. Once in the city, there's a choice of local buses operated by TransLink that connect most tourist destinations, while taxi travel is also possible, and the Gold Coast Light Rail is a new addition. The open-topped, double-decker sightseeing bus can be a useful alternative, but taxi travel is best during the late hours.
Source: au.hotels.com