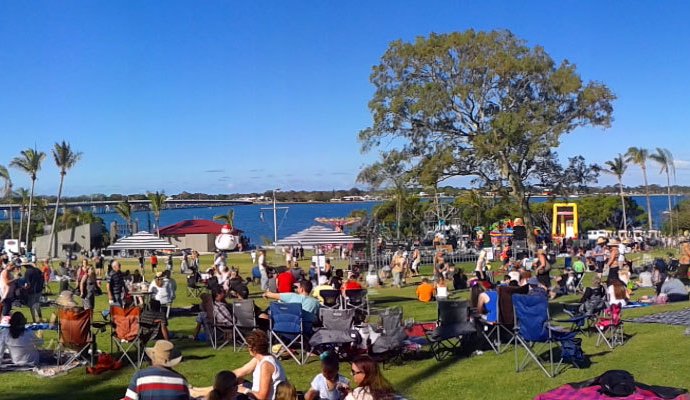 Strawberry Festival Australia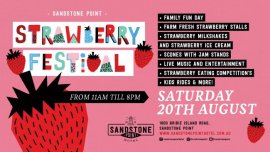 This is a family orientated festival, with the emphasis on Strawberries. Buy strawberries fresh from local farms, eat scones with strawberry jam, ice cream and chocolate coated strawberries, and drink strawberry milkshakes. If you are keen, join a strawberry eating competition.
It won't all be strawberries, there will be market stalls, kids rides, live entertainment and other festivities. You can also enjoy a wide selection of great food in the hotel itself or have fish & chips from The Oyster Shed. There will also be food stalls and trucks at the festival.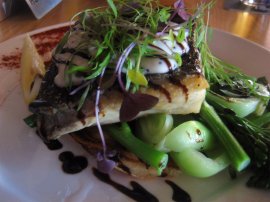 Grilled Fish at the Sandstone Point Hotel
About the Sandstone Point Hotel
This newly built hotel sits on Pumicestone Passage looking over at Bribie Island. The hotel building itself is designed to merge into the hill and grounds in which it is set. The grounds are perfect for festivals and events and the hotel regularly holds a range of events.
The Sandstone Point Hotel
The hotel itself is the perfect waterside hotel. It attracts a wide range of clientele, with a great mid-priced range restaurant and cheaper family bistro. Also on the grounds is the Oyster Shed. This fish & chippery is a great place to pop in for takeaway seafood.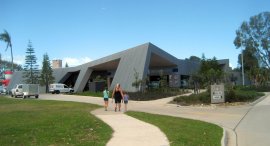 While this Oyster Shed was built along with the hotel, it was inspired by the original Oyster Shed that dates back to 1875 when the area first started to be used for oyster farming.
The Oyster Shed and Sandstone Point Hotel seen from the pier
In the area
If you are looking to make a day of it, then consider visiting Bribie Island in the morning and heading to the Sandstone Point Hotel in the Afternoon. Activities on Bribie include beach walking, swimming, and kayaking.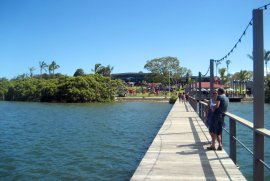 You could even hire a boat or kayak from one of the boat hire places on Pumicestone Passage, paddle over to the Oyster Shed, jump out, grab your strawberry fix and then paddle away.
Bongaree on Bribie Island, opposite the Sandstone Point Hotel
Strawberries in the Caboolture area
South East Queensland, especially the Sunshine Coast, is famous for their strawberry industry. The Caboolture area is one of the largest strawberry growing regions in Australia. The festival is a great opportunity for people in the region to celebrate an industry that gives us wonderful strawberries.
photo courtesy of the Sandstone Point Hotel
Overall
The Sandstone point hotel is worth visiting any time you are in the area, and when they are holding events, it is worth making a special trip just for the festival. Combined with a trip to Bribie Island and you have the makings of a great day out from Brisbane.
Source: www.weekendnotes.com