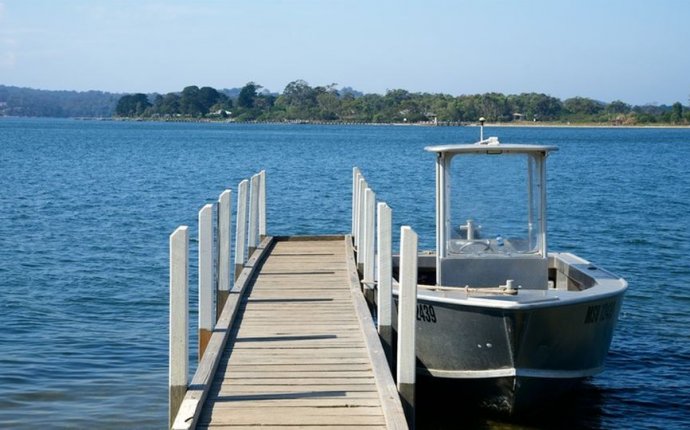 Accommodation Metung Victoria Australia
Transport yourself to a Hansel and Gretel style cottage in a forest on an island where you can see wildlife up close in their natural environment. Only 4 hours from Melbourne. Imagine yourself relaxing in the hammock looking out to the lake and beach as time stands still and you breathe in the fresh sea air. We are very sorry pets are not permitted here due to sensitive nature of wildlife. We live permanently at the property in the main house to which the cottages are attached.
Self-contained Tudor cottages were built about 30 years ago by a German craftsman and feature many unique features such as handmade headlight windows, handmade wrought iron light fittings and German tiles and wallpapers. Note: small bathroom is downstairs and bedrooms upstairs. The compact kitchen has full size fridge, caravan style cooker with 2 burners, microwave. We have a mix of rain and bore water, so you may like to bring your own water if you are used to fluoride and chlorine taste. We live permanently in the main house.
Raymond Island is located 200m across McMillan Strait from Paynesville, Victoria's boating capital and is in the centre of Australia's largest lake system, with canals carving their way through town, offering unique waterside locations. The island offers a truly unique Australian experience with its 1.2km koala trail starting in the ferry park. Raymond Island is known for its large koala population and is also home to over 60 bird species and is the only place in the world where a particular unique native orchid grows.
We had such an amazing stay here, beautiful place to relax and get in touch with nature! Kirsten is lovely and very knowledgable about the local animals. With the beach as a backyard, and the forest as the front garden, the house couldn't be in a more perfect location! Kayaking was a definite highlight, thanks very much for the fantastic experience!
Thank you for a wonderful stay. The location was amazing for a perfect, relaxing getaway.
The place of stay was NOT accurately described by Airbnb. In the first place, there was a very steep staircase to the bedroom, with the bathroom situated downstairs. I have had a knee replacement so, I would have been good to have known of that situation prior to booking. Coupled with that, the furniture was dreadfully old and, to be frank, quite an insult to potential residents.
We had a wonderful short stay at the Cottage. Raymond Island is very beautiful and full of wildlife, we also really enjoyed the Koala Trail. Kirsten and her husband gave us a warm welcome and made sure we had everything we needed. The cottage itself is small but well equipped (remember to bring food as its self-contained and there are no stores on the island) and was ideal for our short stay. Thanks again for having us!
Thank you Kirsten for being an absolutely wonderful host. Swan Cove is a magical place for nature lovers and young families. On arrival we were greeted by three kangaroos in the garden and beautiful red birds. Kirsten took us for a guided tour around her stunning organic garden... we were able to forage for whatever we wanted... the tomato, leeks and garlic chives... heavenly!!! The lake is only 20meters from your front door and the forest starts in the garden perfect for spotting koalas... What a peaceful and beautiful place... thanks for having us to stay.
A nice place to stay, it was a one night stopover for us. Relaxing and plenty of wild life to keep you interested.
Kirsten's place exceeded our expectations. The accommodation is even cuter than the photos would suggest. We loved the house, the greeting from the crimson rosellas, the meditation gazebo and direct access to the beach. Most of all, we loved how calm, peaceful and still the area was. It's the perfect place to re-center and relax. We are looking forward to returning soon!
Source: www.airbnb.com.au